Kash Top up Flow
Your KASH account is running low on funds? Not to worry, you can conveniently top up your account via online through internet banking / credit card or offline through cash deposits.
Top up through online channels
Online top up can be done through Webcash partner banks below. Online top up to your account will be updated immediately.
How can I make an Online Top Up?
1.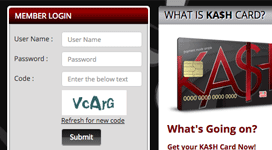 ---
2.
On the left side menu, click
Kash Card Top up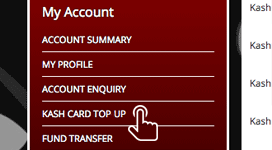 ---
3.
Enter the Top up amount, select Top up option and click
SUBMIT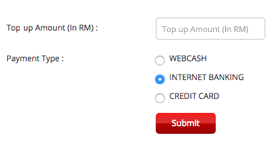 ---
4.
Check the Top up amount and click
CONFIRM
to proceed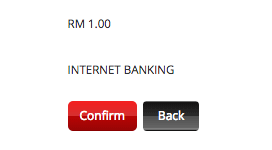 ---
5.
Upon confirmation,
Webcash Payment Gateway
will be displayed.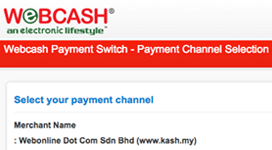 ---
6.
Select your preferred internet banking account or credit card for real time top up. Our internet banking and credit card options includes
Bank Islam, CIMBClicks, Hong Leong Bank, Maybank2e.com, Maybank2u.com, AffinBank, Alliance Online, RHBNow, AmBank, Bank Rakyat, UOB, Bank Muamalat, PBeBank.com, Visa and MasterCard.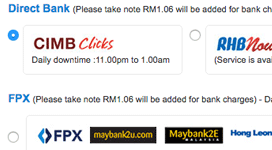 ---
7.
Click
'Connect to CIMBClicks'
(If you select CIMB as your payment option)
Note: Online payment using Internet Banking and Credit Card require your browser popup blocker to be disabled.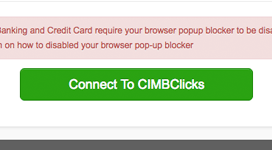 ---
8.
Follow the selected bank's instructions to proceed with the top up transaction
1. Log in to your internet banking account.
2. Continue with your transaction.
3. Return to Kash.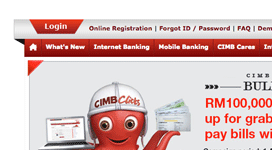 ---
9.
Once top up successfully completed, please click the button
'Redirect to Account Summary'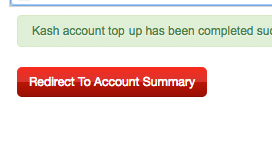 ---
10.
Top up amount
successfully credited
in your Kash Account.