Where To Get KA$H Card?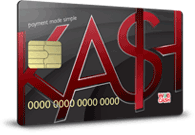 Currently KA$H is available and accepted in KFC Klang Valley and Johor restaurants. By October, KA$H will be extended to the other KFC restaurants within Peninsula Malaysia. Very soon, we will have merchant partners like Angry Birds Themed Park, JBCC Komtar and many more.
KA$H will also expand its payment services to utility companies such as Tenaga Nasional, Indah Water, TM Unifi, to name a few, by year end. We are scheduled to launch KA$H services in KFC East Malaysia and Pizza Hut by second quarter of 2016. It doesn't stop here. Even at this moment, KA$H is aggressively pursuing more merchants to sign up.
A KA$H card starter pack is sold at RM25. Upon activation, there is a one time fee of RM12.50 (RM10 for the card and RM2.50 activation fee) plus GST. This will leave the new KA$H member with RM11.75 to start his or her first experience with KA$H payment in KFC. We are giving 100 points to every successful activation, and 2000 points on every member's birthday when they make a purchase in KFC. A total value of RM15 is returned to the members. There is a small annual fee of RM1.00 to maintain our services and continue exciting events for KA$H members.
We look forward to your support and stay tuned for exciting times ahead.