What is KA$H Card?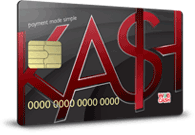 KA$H Card is a revolutionary card that redefines convenience & rewards. It is a revolutionary (did we already mention revolutionary?) secured prepaid payment solution with endless possibilities. Unlike any other prepaid payment solution, it provides you with a whole new payment, personal fund management, shopping and lifestyle experience. It is essentially an e-Wallet with endless possibilities.
Designed to be simplistic and easy to use, KA$H is creating a whole new buying experience. Moreover, with exciting activities line up for the year such as concerts, meet and greet artists and online contest where members have opportunities to win holiday trips or even the latest mobile gadgets, KA$H is enabling endless fun to its members.

There will be points earned with transactions made through KA$H payment. With these points, members can either purchase products at discounted price from merchants or redeem points for cash that will be credited back to their KA$H account. This is a significant advantage over using physical cash.
Currently KA$H is available and accepted in KFC Klang Valley and Johor restaurants. We look forward to your support and stay tuned for exciting times ahead.